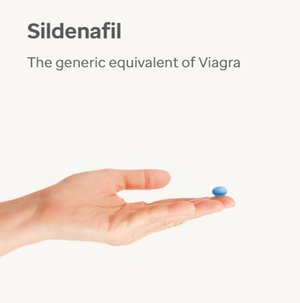 Sildenafil (Generic)
Sale price Price R 480.00 Regular price
Sildenafil is generic Viagra available in South Africa. Sildenafil tablets contain the same active ingredient as Viagra, called sildenafil citrate, which works by increasing blood flow to the penis, helping men achieve and maintain an erection during sexual activity. Generic Viagra, or Sildenafil, is similar to the branded version of the medication but is typically less expensive. You can purchase Sildenafil with an online doctor's prescription from our registered doctor as Sildenafil tablets are only available with a prescription.
For your peace of mind Get Tested only uses SAHPRA medication with no alterations via a South African SAPC-registered pharmacy.
How to order Sildenafil (high dose):
1. Choose your plan: You can subscribe for one year or six months at a time, and your card will be charged monthly for that period, or you can choose a once-off purchase for one month.
2. Select the number of 'uses' you want per month and complete your purchase - You can get 4, 8, or 12 prescriptions. 
3. Following your purchase, you will be emailed a request to complete a medical survey online. Information about your symptoms and health will be collected for our medical team to review. 
4. If your order is approved, your medication will be delivered in discreet packaging within 3 - 5 working days.  Please note delivery is free. 
* Get Tested only utilizes registered medical doctors who prescribe evidence-based and clinically proven treatments.

*In the event that our medical team deems a treatment plan unsafe for you to utilize, we will refund you the full amount.